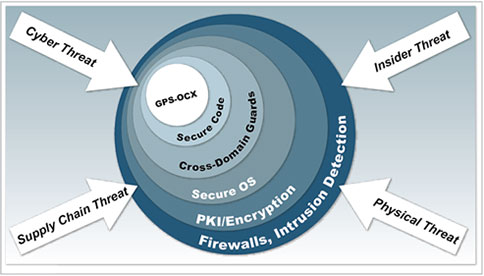 WASHINGTON:  If all goes well, Raytheon's crucial next-generation ground control system for GPS, OCX, will pass its first major hurdle next month as it scrambles out from under the opprobrium of being labeled the worst acquisition program in the Air Force.
OCX is designed to double the accuracy of the Position, Navigation and Timing (PNT) signal, provide unimpeachable cybersecurity against both external and internal attack, and be able to communicate with all of America's satellites.
The company quietly sent Block 0, known as the Launch and Control System (LCS), to the Air Force on Sept. 29 for acceptance. The service is making sure the system meets its contractual requirements and really is on schedule for next month. LCS controls launch and early orbit operations and does the on-orbit checkout of all GPS III satellites. The first of Lockheed Martin's GPS 3 birds is set to launch in Spring of next year — about four years late.
Of course, Raytheon's OCX — without which GPS 3 doesn't function nearly as well as it is designed to — is substantially over budget and behind schedule, to the point even top lawmakers have noticed. It remains under the keen eyes of quarterly reviews by the Office of Secretary Defense, Air Force Secretary, the head of Space and Missile Systems Center and the Air Force program executive officer for space.
While the Air Force continues to growl that no program is too big or important to fail — yes, even OCX — there's little doubt that the new ground station system has demonstrated its highly complex and rigorously tested software has swung back from the brink and is, as best we can tell at this point, well ensconced on its new track. But let's see what the Air Force says next month.