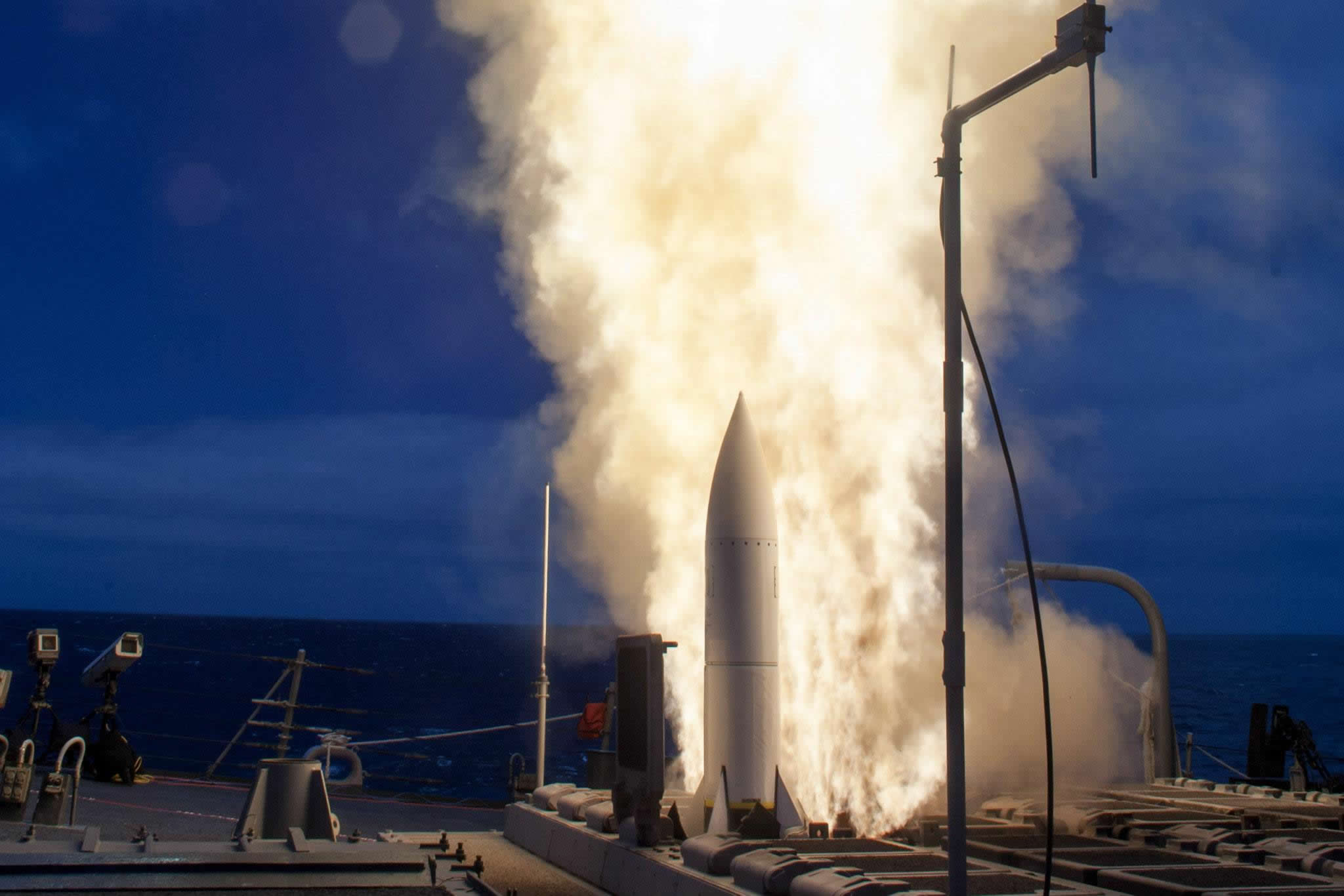 When it comes to Raytheon's Standard Missile-6, there really is no comparison. It was most recently described by the Missile Defense Agency as the "Swiss-Army knife of missiles," boasting three missions within one effector. That means a great deal to Navy commanders who have limited space onboard their ships and can wield anti-air warfare, ballistic missile defense, and anti-surface warfare all packed within one missile cell.
Considered a triple threat, the SM-6 is the most affordable missile per defended area and threat set – continuing to perform beyond expectations and its original intended mission. Originally designed to defend ships against enemy aircraft, unmanned aerial vehicles and cruise missiles when issued to the Navy in 2013, the SM-6 has redefined itself again and again by adding new capabilities to its repertoire.
By 2015 it had successfully added and proven the ability to protect ships against ballistic missile threats in their final phase of flight. A handful of months later, it demonstrated the ability to take out objects on the ocean's surface. A test in January of 2016 resulted in the demise of the decommissioned USS Reuben James. In recent tests it has shattered its own record several times over for the longest-range surface-to-air intercept of its kind in naval history. Three missions in one missile is remarkable, but just as impressive is the fact that these new missions are added to an existing missile through software upgrades only. There is literally no physical change to the missile, and it is part of Raytheon's effort to rapidly spiral capability into the hands of warfighters.
In response to the Navy's request for an enhanced capability to deal with a particularly stressing medium-range ballistic missile threat, an SM-6 featuring enhanced software successfully intercepted a ballistic missile target in its final seconds of flight in August of 2017. It was the third time that the missile successfully demonstrated its terminal ballistic missile defense capabilities. The Raytheon team completed the analysis, coding and testing in seven months; a process that normally takes one to two years to execute. It's all part of the rapid capability spiral.
This record-breaking testing comes as the U.S. Navy continues to strive for what it calls "distributed lethality,"or the ability to strike from any ship and from any location. That requires using ships in dispersed formations to counter threats from missiles, aircraft, submarines and surface ships.
"In order to have more power in more places, the Navy is increasing the offensive might of the surface force," said Dr. Mitch Stevison, vice president of Raytheon Strategic and Naval Systems. "The SM-6 is a very capable missile. One missile with one hardware configuration performs all three missions."
The latest variant of the SM-6 – the SM-6 Block IA, is an emerging change to the Block 1 variant, with improvements to the guidance section. These enhancements allow the missile to seek out and destroy a wide variety of advanced threats with precision. The SM-6 Block IA aced its final land-based test in June 2017, moving it to at-sea testing.
"The Block IA brings a new level of sophistication to the SM-6 and increases the precision of the missile even more," said Stevison. "Relying less on a ship combat system means the missile can continue to engage targets further and further away with extreme accuracy."
SM-6 is a key component of the U.S. Navy's Naval Integrated Fire Control – Counter Air mission and is deployable on 60 surface combatants in the fleet. Raytheon is approaching the delivery of the 500th SM-6 to the U.S. Navy; final assembly of SM-6 takes place at Raytheon's production facility at Redstone Arsenal in Huntsville, Ala. In 2017 the U.S. Department of Defense approved SM-6 for release to several international customers, many of them seeking the multi-mission missile to bolster their shipbuilding programs. Learn more about Raytheon's Advanced Naval Strike portfolio, including the Standard Missile-6 here.