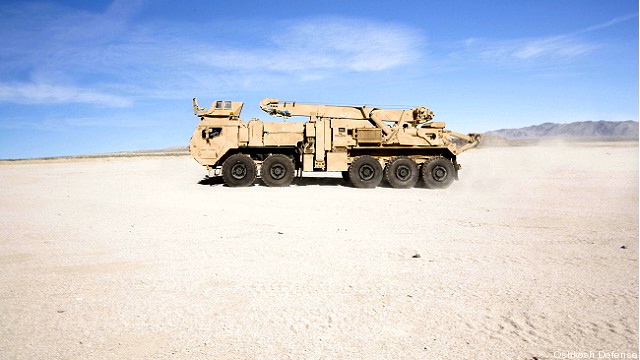 Washington: The fleet of up-armored, bomb-resistant vehicles DoD flooded onto the battlefield in recent years has saved the lives of untold numbers of American soldiers.
Trucks like the Mine Resistant Ambush Protected Vehicle and the up-armored Humvee have given U.S. forces in Iraq and Afghanistan a significant edge. But getting these massive trucks off the field once they have been hit has become a difficult and sometimes deadly task.
If an MRAP or up-armored Humvee is hit by an improvised explosive devices or rocket-propelled grenade, the crew may be able to walk away unscathed, but the vehicle will likely be reduced to a smoldering pile of twisted metal.
Hauling the wreckage back to base can require calling in a number of other heavy vehicles to help out. But it also means leaving the convoy exposed in dangerous and hostile terrain, while waiting for those support trucks to arrive.
Since IED and RPG attacks can be used by insurgents to set up ambushes on American patrols in Afghanistan and before in Iraq, waiting for help to arrive could quickly turn into a firefight.
However, the engineers at Oshkosh Defense are looking to change all that, with their newest tactical wheeled vehicle.
The company's Heavy Recovery System will be able to retrieve all Class I and II MRAPs, as well as other large vehicles like Strykers, Bradleys and Humvees, according to a Oshkosh statement released today.
Aside from being able to pull Army and Marine Corps trucks off the field and back to base, the HRV will also be able to withstand the same kinds of threats the vehicles they are retrieving can.
Oshkosh team members plan to roll out a prototype version of the HRS at the Modern Day Marine trade show at Marine Corps headquarters in Quantico, VA next week, according to the company's statement.