UPDATED: Adds DepSecDef Shanahan & VCJCS Selva Insights, expert critique
WASHINGTON: The Trump administration appears to have gone far beyond what the most ardent congressional advocates for a Space Force wanted, calling for creation of both a US Space Command and a US Space Force.
Here's the crucial language in today's awkwardly titled "Final Report on Organizational and Management Structure for the National Security Space Components of the Department of Defense": "the Department will create a U.S. Space Command, led by a four star general or flag officer, to lead the use of space assets in warfighting and accelerate integration of space capabilities into other warfighting forces. U.S. Space Command will be responsible for directing the employment of the Space Force."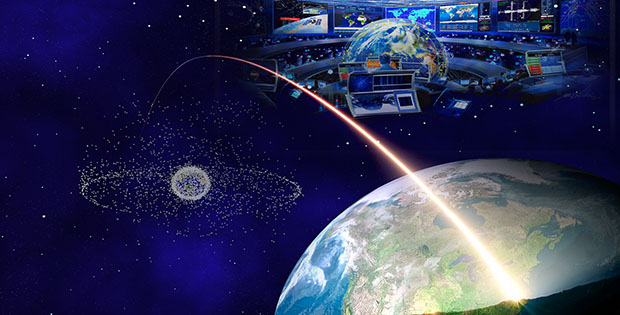 Cart Before Horse?
Is this a good idea? One of the most experienced experts in the space and intelligence worlds, consultant Bob Butterworth, was skeptical.
"Despite common practice, in principle the first effort should be defining the problem or problems: What are we trying to fix/make better/overcome, and what are the options for doing so? Then, in determining the most promising options and how to develop them, it might become clear what kind of organizational changes would help. This theme is one that Schlesinger (among others) kept sounding in the early 1960s. So let's take Pence's definition of the problem and decide what 'American dominance in Space' means operationally, and then see if what organizational changes might be helpful." (Emphasis ours).
"But that won't happen, of course," Butterworth says in an email. "there are two more principles that will also be ignored(:) One is that assessments of space programs and operations must be based on the joint fight (i.e. on the land, sea, air, and cyberspace), not just on what happens on orbit. Another is that new challenges might require new capabilities, while the space capabilities the Air Force has operated for decades were invented and developed outside the military community."
Frank Rose, former deputy assistant secretary of State for space and defense policy and assistant secretary for arms control, verification, and compliance, urged as much focus on space diplomacy as on military space issues.
"I support the proposal to create a U.S. Space Command, but care must be taken to ensure its activities are closed integrated with U.S. Strategic Command and U.S. Cyber Command," Rose said in an email.
"The challenges we face in the space domain cannot be solved by military means alone," Rose emphasized. "The Trump administration needs a diplomatic counter-part to accompany its military response to the counterspace threat. To date, the Trump administration has been absent from the space diplomacy arena. This needs to change it we are to be successful in deterring counterspace threats to the U.S. and our allies."
So why does the administration think this is so vitally important? The congressionally-mandated report just released tells you the vitally important how and why: "DoD will usher in a new age of space technology and field new multi-domain systems in order to deter and if necessary degrade, deny, disrupt, destroy, and manipulate adversary capabilities to protect U.S. interests, assets, and way of life, the report says. "This new age will unlock growth in the U.S. industrial base, expand the commercial space economy, and strengthen cooperation with our allies and partners."
That's it, in a nutshell. Note the important mention of "multi-domain" — Pentagonese for coordinated operations on land, sea, air, space, and cyberspace — and the willingness to say publicly that the US will "disrupt and destroy" an adversary's weapons. In the past, that was understood but was rarely said clearly and simply.
Step By Step
The "separate but equal" sixth service (don't forget the Coast Guard) will be created in stages, because, as Pence finally admitted publicly, it "requires Congressional action."
UPDATE BEGINS: And, as the honorable man who's the vice chairman of the Joint Chiefs of Staff, Gen. Paul Selva, admitted today, if Congress passed the relevant laws in a year that would "unprecedented." Selva, talking with reporters after Pence's speech, admitted the obvious. It took more than five years to get Special Operations Command created by Congress after the 1980 disaster of Desert One in Iran,. And they were reacting to a disaster, which usually helps Congress think. These new space entities are being created to cope with systemic problems that have, as Selva noted, not resulted in a disaster in space.
The report itself states that "Establishing a sixth branch of the Armed Forces requires Congressional action, (so) Establishing the Space Force will be multi-dimensional and phased. In this first phase, using existing authorities, the Department of Defense will establish several of the component parts of the Space Force (specifically, the Space Development Agency, Space Operations Force, Space Command, detailed below, as well as unspecified 'governance, services, and support functions.') The second phase requires Congress to combine these components into the sixth branch of the Armed Forces." (Emphasis ours).
The man who wrote the report, Deputy Defense Secretary Patrick Shanahan, made clear to us his first task in starting the changes underway was, do no harm: "I'm hearing my dad whispering in my ear — don't screw anything up."
How much will it all cost? Shanahan drily told us he knew the figure "exactly," clarifying later that he was having us on. He then said it would probably cost "billions." Selva noted there are about 18,000 uniformed people doing "actual space work" across the services, with "another several thousand" contractors and related support civilians.UPDATE ENDS
Space Development Agency
The first step to building this improved Space Force will be creation of a Space Development Agency (SDA) "to develop and field space capabilities at speed and scale." It's unclear whether this will expand the responsibilities, budget and personnel of the Air Force's Space and Missile Systems Center (SMC) or lead to a new entity that supersedes SMC. The one unequivocal detail in the report is that it will be a joint agency drawing on all the services.
The report waffles a bit on how exclusive this agency will be: "Some existing space acquisition programs may remain in current service organizations, which should aggressively pursue improved performance, while the Space Development Agency develops and fields the capabilities outlined in the DoD Space Vision."
The larger goal, Pence said, in what certainly seemed a barb aimed straight at the heart of SMC, is an agency that "will break free from ineffective and duplicative bureaucratic structures."
UPDATE BEGINS: We asked Shanahan to be more specific about SMC's future and he made clear the biggest goal of creating this new entity is to buy, build and deploy weapons more quickly. He didn't make much else clear except to offer a variation on this sentence in his report: "The commercial space industry will have a greater role as commercial and government entities 'move toward the center' on requirements, regulation, and compliance." He and Selva both noted improvements in the buses which are the foundation of satellites and the fast speed of growth in some areas of commercial space.UPDATE ENDS
Space Operations Force
After SDA is created, the Pentagon will focus on a Space Operations Force to "support the Combatant Commands." Since Strategic Command, Air Force Space Command, the NRO and NGA already do this, it sounds as if the difference will be that everyone doing it will be trained and equipped by the Space Force and commanded by Space Command, eventually. After that, the Pentagon will ask Congress to change Title 10 and create the Space Force when it presents the 2020 budget.
Finally, the military will create a U.S. Space Command, led by a four star general or flag officer, to lead the use of space assets in warfighting and accelerate integration of space capabilities into other warfighting forces. U.S. Space Command will be responsible for directing the employment of the Space Force.
UPDATE BEGINS Since the 2019 National Defense Authorization Act requires the creation of a sub-unified command under Strategic Command, one of my colleagues asked what would happen to this. Selva said they decided to "skip" this step and go straight to a Space Command.
To get that done, the report declares Space Command will be built by a "governance committee" led by Shanahan. It will include the chairman of the Joint Chiefs of Staff, the Air Force Secretary, the Army and Navy secretaries, the undersecretary of Defense for research and engineering, the undersecretary for acquisition and sustainment, "the relevant combatant commander (first USSTRATCOM and then U.S. Space Command), the Under Secretary of Defense for Personnel and Readiness, and the Under Secretary of Defense for Policy." UPDATE ENDS
The report says that "The Space Operations Force will provide the human capital needed to develop, field, and integrate space capabilities into multi-domain warfighting. (emphasis added). "Similar to Special Operations Forces personnel provided by all Military Services, the Space Operations Force will be composed of the space personnel from all Military Services but developed and managed as one community."
The Pentagon "recommends" President Trump change the Unified Command Plan by the end of this year. At first, the head of Air Force Space Command will be dual-hatted as the head of Space Command. The first operational use of the Space Force may happen next year. It should be "prepared to deploy teams of space experts to U.S. European Command and U.S. Indo-Pacific Command no later than summer of 2019," Shanahan's report states.
One very important note in the report is its mention of "improved integration with other space organizations across the intelligence community, particularly shared organizations including the National Reconnaissance Office (NRO) and National Geospatial-Intelligence Agency (NGA),"
Reps. Mike Rogers and Jim Cooper, the top two members of the House Armed Services strategic forces subcommittee and ardent supporters of a Space Force, were, of course, pleased by today's announcement, though they didn't mention Space Command.
"We have been warning for years of the need to protect our space assets and to develop more capable space systems," the lawmakers said in a joint statement. "We are glad that the Pentagon is finally taking these steps in enhancing our space strength."
Look for more on this from the White House soon as Pence said Trump will discuss details of the plans in days ahead.