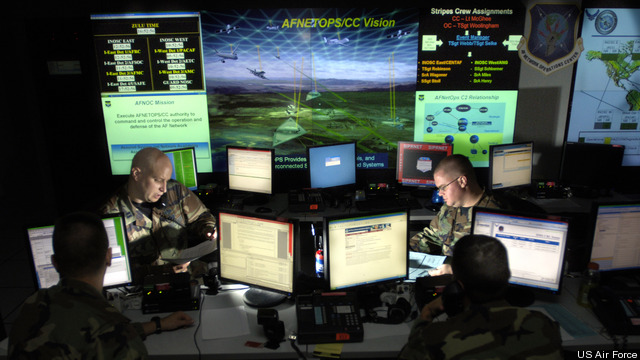 WASHINGTON: The Pentagon is pushing ahead with plans to establish a new Artificial Intelligence center within the next six months, the department's No. 2 civilian official said Tuesday.
The office — which defense officials have hinted at in recent weeks — is still very much a work in progress, Deputy Defense Secretary Patrick Shanahan told a small group of reporters in Washington. But he said it's one of his staff's top priorities, given the revolution in Machine Learning happening in the private sector, which the Pentagon is desperately looking for ways to harness.
It's unclear who will run the office, which has been dubbed the Joint Artifical Intelligence Center (JAIC), or where it will sit, but Undersecretary of Defense for Research and Engineering Michael Griffin said last week that he wants to use it to bring together Pentagon planners and and the Intelligence Community, allowing them to sit shoulder-to-shoulder and collaborate. They'll also be tasked with working on ways to get the plodding government tech acquisition community to buy in on AI, and organize the almost 600 projects being worked at the Pentagon that involve some form of AI.
Either Griffin or Dana Deasy, a former JPMorgan Chase executive who will join the department in May as its top IT official, will likley run the organization once it stands up, Shanahan said.
Griffin shares Shanahan's desire for speed. During a hearing on Capitol Hill last week, he told lawmakers that in moving forward with AI and hypersonics projects, he wants to simplify the decision-making structure. "What I want to cut out is layers of bureaucratic decision making where way too many people think what they have to say matters," he said. He assured lawmakers that he's not trying to slash and burn his way through the system, but that decisions need to be made quickly, and then only by a handful of people qualified and empowered to make them.
Just last week, the U.S. Air Force awarded Lockheed Martin a contract for a hypersonic cruise missile, taking a big step toward developing a critical capability that top Pentagon officials have said they need to keep pace with rivals China and Russia.
The $928 million contract will cover the "design, development, engineering, systems integration, test, logistics planning, and aircraft integration support of all the elements of a hypersonic, conventional, air-launched, stand-off weapon," according to information released by the Air Force.
While it's clear the Pentagon leadership thinks they have a winner in the nascent JAIC, they're doing things differently when it comes to hypersonics and directed energy weapons. In establishing new directed energy programs, "it may not be that there's a center," Shanahan said. "What we may do is parse things out until someone's doing power supply, somebody's doing beam control. It's different aspects of the technology that we'll probably parse out, either to a service or one of the research labs."
Griffin has repeatedly said that developing new hypersonic capabilities is his top priority, and Shanahan confirmed Tuesday that Griffin has already delivered an interim report on his plans for ten key technology areas for the Pentagon, with a final report due on his desk in July.
Shanahan said he's expecting a significant boost in funding fpr the Pentagon in 2020, and is looking forways to make "headroom" for new investments in emerging technologies.The July report will set key milestones for testing and prototyping technologies between 2018 and 2023, for the first time establishing a road map for hypersonics and AI development in the near-term.