WASHINGTON: Want to see an advanced helicopter fly faster than 230 knots? Well, don't get out your binoculars and cameras yet, aircraft-watchers.
What may be the next great leap forward in rotorcraft technology begins a month from now with a baby step. By early August, the Army-run Joint Multi-Role Technology Demonstrator program is to choose which of four industry competitors will be given money to build a proof-of-concept aircraft incorporating new or exotic means of making rotorcraft fly faster and farther. The JMR TD is one part of a larger Future Vertical Lift program whose goals include producing a new medium-lift rotorcraft able to fly faster than 230 knots – a hundred knots or so as fast as most existing military helicopters cruise.
While the JMR TD aircraft are to start flight demonstrations in late 2017, any actual military aircraft they might help spawn will fly no sooner than a decade or more later, and probably 2035.
"We're not building prototypes," the Army program manager, Dan Bailey, told a CSIS panel discussion on the project Tuesday. "They're demonstrator aircraft."
Michael Hirschberg, executive director of the American Helicopter Society International, said that while speeding up rotorcraft flight is a key goal, speeding into production isn't. "This isn't as much about urgency as it is about doing a next-generation design," Hirschberg said. "They're trying to do it as quickly as possible but it's practically impossible to do something faster because of how bureaucratic the defense acquisition system is. In any event, it's better to take a little longer to have something that's revolutionary than just another evolutionary step."
Bailey was vague about precisely how the four entrants will be narrowed down, whether two or three will be left standing, and exactly how the money might be divided among them. The Army gave the four entrants – AVX Aircraft Company, Bell Helicopter Textron Inc., a team formed by Boeing Company and Sikorsky Aircraft Corp., and Karem Aircraft – $6.5 million to refine their designs over the past year, and Bailey said they all have technologies he hopes they will continue to develop. With a total of $350 million to spend on a program that began in 2009, he just can't pay them all to build demonstrators.
"We will certainly — at the end of the day I believe — have opportunities in every one of the four vendors that we would like to continue at some level," Bailey told reporters after the panel discussion, which featured representatives of each competitor. "Where we draw the line is going to be based on the resources I have to invest."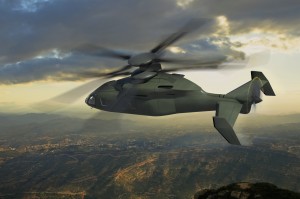 The four entrants are offering variations on two basic concepts designed to overcome the inherent limitations on a conventional helicopter's speed imposed by the aerodynamics of rotors, the central challenge being to maximize horizontal as well as vertical thrust. One such concept is the compound helicopter, which adds separate means of horizontal thrust, as Sikorsky did with its X2 technology demonstrator. The other is the tiltrotor, which uses rotors to provide both forms of thrust, swiveling them upward to fly like a helicopter and forward to fly like an airplane, as does Bell-Boeing's V-22 Osprey, in service with the Marines and Air Force.
AVX and Boeing/Sikorsky are offering compound helicopters while Bell and Karem are offering tiltrotors.
Industry insiders are certain the Army will keep funding at least one of each – at least one compound helicopter and one tiltrotor. Logically, they add, the fact that both AVX and Karem Aircraft are essentially design companies with no production facilities of their own while Bell and Boeing/Sikorsky are major manufacturers of helicopters and the V-22 suggests two most likely outcomes.
The Army might give most of what money it has for the project to Bell and the Boeing/Sikorsky team because they clearly know how to build aircraft and have built aircraft with configurations similar to those they're offering for JMR TD. Alternatively, on the theory that Bell and Boeing/Sikorsky need the money less, and will probably keep working on their technologies in any event, the Army might give most of the money it has to AVX and Karem to keep them going with designs most experts agree are innovative. But those are only two of many alternatives, so stay tuned.