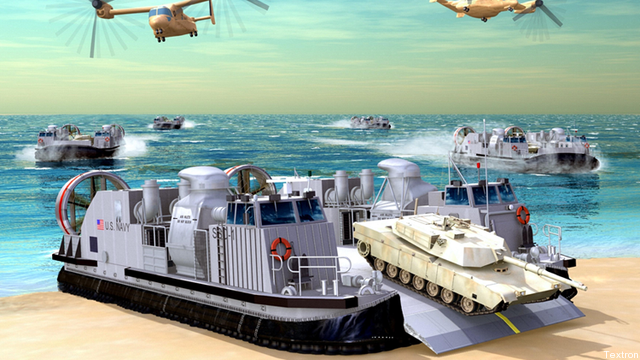 After repeated delays, an industry team led by Textron Inc. has won a $212.7 million contract for the next-generation hovercraft transport to carry Marine forces from ship to shore, the Navy announced at 5:01 today.
The blandly named "Ship to Shore Connector" (SSC) will replace the aging Landing Craft Air Cushion (LCAC), also built by Textron, which entered service in 1982. Textron beat out a rival team led by Lockheed Martin and Marinette Marine, who first joined forces to build the Littoral Combat Ship.
With the cancellation of the Marines' Expeditionary Fighting Vehicle, a kind of water-skiing tank meant to replace current amphibious troop carriers, the SSC is even more crucial to amphibious warfare, the Marine Corps' raison d'etre. The unique ability of hovercraft to carry heavy loads straight onto the beach, without worrying about shallow waters, rocks, or the need for port facilities, makes them a mainstay of Navy humanitarian relief operations as well.
The Navy has invested in a service life extension program to keep most of its current LCAC hovercraft running until 2028, but the aging craft were struggling under the increased weight of Marine Corps vehicles as the military uparmored its vehicles against the threat of roadside bombs in Afghanistan and Iraq. With anti-tank weapons proliferating worldwide, ground vehicles are unlikely to get lighter, so the Navy needed a landing craft with more hauling power. The current LCAC is built to carry 60 tons, although it can manage 75 at reduced speed; the SSC is supposed to haul 74 tons at its full speed of 35 knots, about 40 miles per hour.
Unusually for a defense program, the Navy did most of the design work on the SSC itself; the contract to Textron is only to do "detail design" and build a "test and training craft." That's a major break with past experiments in giving industry wide leeway in design, as tried on the Navy's Littoral Combat Ship, the Coast Guard's Deepwater program, and the Army's canncelled Future Combat Systems. If the Textron prototype proves successful, the Navy will exercise an option for eight operational SSCs at about $44 million apiece, which would bring the contract's value to $570 million — with the replacement of the rest of the Navy's fleet of 72 LCACs presumably to follow.