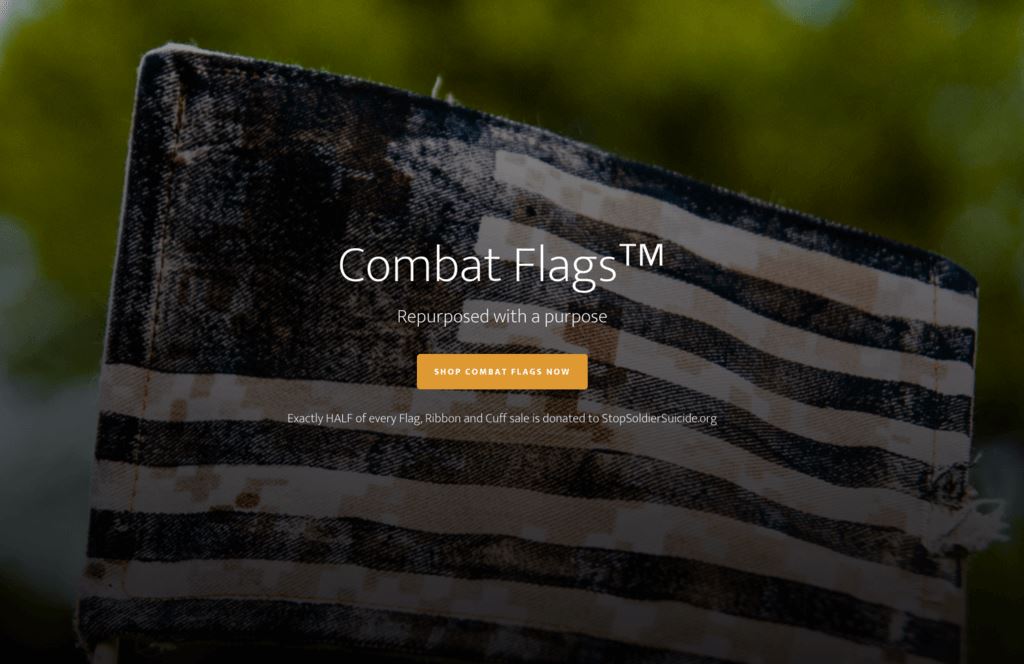 Posted on
---
Combat Flags Review
When we were just building out our Instagram profile
@moralepatcharmory
we did the usual thing anyone does when just starting off a profile on a social network and started looking to populate our feed with some cool people and brands to follow. Well one thing led to another and we came across
@combatflags
. We creeped down the profile checking out some awesome pictures of their products and then ultimate curiosity took over and we scrolled up to the link in the bio and went on to do a deeper dive into the world of
Combat Flags
™
 The product looks cool. I mean, come on what is not badass about a flag that is made from a uniform of a service member? Well if that does not impress you, turn the flag over and you can read about the person that wore the uniform and a short story about them and their service. I needed to have one. So I hit the shop button and and I bought 2
Combat Flags
and complimented it with a
Combat Ribbon
. Pics or it didn't happen? Okay here's the pics:
The front view of the Combat Flags
The back view of the Combat Flags
The Flags are as awesome as you think they are. The quality of the flags themselves is unmatched and the design is simply badass. I love them on top of all that, when you buy a combat flag you're also helping a truly good cause and foundation. Exactly HALF of every Flag, Ribbon and Cuff sale is donated to the
StopSoldierSuicide.org
Foundation. With suicides among our veteran brothers and sisters being at an all time high there has never been a better time to stand together and raise awareness. This is an amazing way to do it. 
So, then I decided to reach out to the owner of combat flags myself and just know more because myself personally and as a brand (Morale Patch Armory) want to support this effort in every way that we can. All that to say we got in touch with Former Sgt. Dan Berei and got to hear direct on the why of combat flags and just as expected he was a down to earth dude with a clear passion and desire to give back to the military and veteran community. Over all, just a really cool dude, which you can also tell just from the Instagram stories and posts on social media if you follow them then you know what I mean and if you don't then, you should be. I finally did some more googling and I found out that Combat Flags was 
featured in the news
. We are not able to embed the video so you'll have to check it out and then come back, but overall it gives a brief snippet about  the cause. Frankly, it's not enough and a good cause like this is what should be all over the main stream media outlets.
Hopefully that happens for Combat Flags soon. Until then I would highly suggest you help them raise awareness buy supporting the cause and getting your own combat flags. If you cant do that right now then share this post at least and lets get eyes on it. Social Media is a powerful platform that we can leverage for good things like this. Lastly, if you are vet, first of all THANK YOU and secondly, if you are interested in donating your uniform to have combat flags made from it you can find out about doing so
here
. DO IT!  We all have a several sets of uniforms sitting in a box somewhere that are doing NOTHING but collecting dust. Do it for a good cause and with that being said. I want to take a moment to say, please do not EVER discount your service and commitment to this land we all home. You signed up to support and defend your country and give your life if need be. Do not think just because it's called Combat Flags that you had to be an operator doing operator as fuck things. Hold pride in the fact that you were willing to take a stand when many others wouldn't. 
Alright, I have stepped down from my soapbox and I will just say.
Combat Flags
are awesome and I really think you should check them out if you haven't already. 
P.S. We are donating some of our Morale Patches to the #CombatGAW that Combat Flags is running. Check out the post below for more details on that.