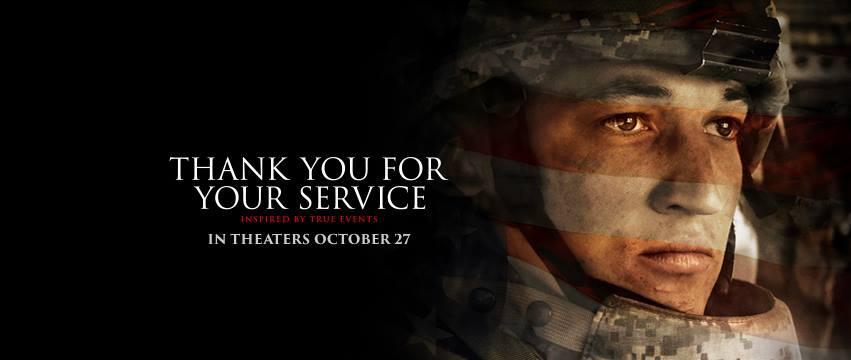 Posted on
---
The Thank You For Your Service Trailer is out. What do you think about it? Check it out here:

Check out the behind the scenes clips here:
Miles Teller
plays a role as a soldier who comes home and deals with the effects of
PTSD
(
check out the link there it has been shared over 16k time)
. It's been said that this could be a spiritual sequel to
American Sniper
.
American Sniper
is an amazing movie and book. So that claim above leaves for some big boots to fill even just claiming to be a spiritual sequel. I don't care who you are...you probably balled like a baby or came close to letting a tear fall for that movie. Let's see the trailer to that one...
The now late Clint Eastwood and Bradley Cooper did a phenomenal job in this film. I have personally watched it near a dozen times and I am not tired of it.

Chris Kyle did not just rightfully earn his title as the legend, he left behind a legacy of heroism and valor that is indescribably legendary. 

You can check out the official Facebook page of Chris and Taya Kyle. 


The Chris Kyle Frog Foundation is a non profit organization with a mission statement that says, "The mission of the Chris Kyle Frog Foundation (CKFF) is to Honor God, Country, and Families Who Serve by providing experiences that strengthen military and first responder marriages and families."
The way they will accomplish that mission is through experiences that will provide the following:
Provide time and space to reconnect after deployment without the distractions of everyday life
Provide power to return to the 'family unit'
Provide new common ground after military involvement

If any of that speaks to you, then please consider doing your part and donating to their cause. They have made it very simple from being able to simply tap on the donate button on their Facebook page to simply going to their website and donating here. 


The website says that the foundation has been built on four solid pillars: 
Loyalty: Committed to God, Country, and Family
Empowerment: Empowering Families to Thrive
Integrity: Honesty and Transparency in our Programs, Funding and Communications
Excellence: Reflecting the service excellence that our constituents provide in service to their communities and country


 
Aside from the above you may have already heard about Forged Clothing. Navy SEAL founded. 
 
Forged
 honors Chris Kyle with their brand, their voice and their cause. You can read their story
here
. "Since day one
Forged
has given back to the community that has molded it into what it is today. A portion of every sale is donated to several military affiliated, non-profit 501(c)3 organizations to help wounded veterans and their families cope during times of recovery. We also create specific tribute t-shirts to honor our fallen Brothers who paid the ultimate sacrifice. A percentage of each tribute t-shirt sold is donated to the
Navy SEAL Foundation
or a specific charity in their Honor. Forged prides itself by partnering with highly ranked military affiliated, non-profit organizations to continue giving back, just as it began doing so long ago."
On a personal note, their line of clothing is really cool and does not scream out "Look at me, I'm a vet looking for attention." They have a classy line of everyday wearables that look great. Be sure to check them out. My personal favorite is the the "
Strength Through Adversity
" line.
STRENGTH THROUGH ADVERSITY
Tough times don't last, but tough people do.
Those who choose to stand in the face of adversity are forever strengthened and Forged by life's most difficult challenges. We can't control the hand that life deals us, but we can accept [or deny] the obstacles placed in our path. How we deal with these challenges defines who we are as human beings.
When facing adversity, no amount of wealth, fame or hierarchy can disguise your true character. Live your life with no limits or regrets; no matter what your situation is, choose your own path in life -don't let someone else do it for you. Do your part to make this world a better place and never pass up an opportunity to help someone less fortunate than you.
Volunteer, serve, mentor, and pass on the wisdom and knowledge you gain along the way. Remember to stay humble and take advice from those who have worn out the shoes that you now find yourself in. Most importantly... do what makes YOU happy.
Here at Forged we believe that nothing great in life is achieved without dedication and sacrifice.
Such a powerful statement and definitely one that you can stand behind. No matter who you are, where you have been and what you are going through, remember that you are not alone.  Sometimes the only way out is through and you are stronger than you will ever give yourself credit for.  In closing I will leave you with this heartfelt video from
Black Rifle Coffee
about Brotherhood. Always, Choose Life. 



Will you be going to see the Thank You For Your Service Movie? Let us know your thoughts in the comments below and help us out by sharing this post! 
Subscribe to our newsletter
Promotions, new products and sales. Directly to your inbox.