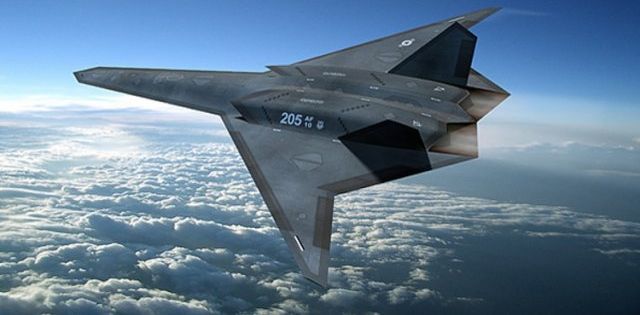 PENTAGON: The grander the title, the blander the content. That's normally a safe rule in Washington. But if analyzed closely, this afternoon's "State of the Air Force" briefing by service Secretary Deborah Lee James and Chief of Staff Mark Welsh, plus the accompanying pamphlet A Call To the Future, actually do articulate a remarkably clear vision of where the US Air Force wants to be — and where it fears it'll end up instead.
So what does the Air Force want? Modernized nuclear, conventional, space, and cyber forces that are optimized against high-end adversaries such as China, with the "strategic agility" to adapt rapidly to new threats. "We [must] posture for the most demanding scenario, not necessarily the most likely," the Call states bluntly.
What does it not want? First, no more mega-programs like the F-35 Joint Strike Fighter: "huge, long-term projects limit our options," says the Call, saying the acquisition system in general is "cumbersome," "brittle," and lacking in "strategic agility." Second, no wholesale shift to unmanned aircraft: "It's not like they're taking over" from humans in every mission area, said Gen. Walsh. "There's a sensor we haven't figured out how to replicate yet, and that's the one that sits on your shoulders."
What is the service willing to give up? First, size: It hopes to shed 23,000 servicemembers in five years. Second, it wants to shed what it considers low-end capabilities most suited to low-tech targets, like the A-10 Warthog ground attack plane. Congress might not let it cut either people or planes, however.
That brings us to the final question: What does the Air Force fear? Congress, sequestration, and unreadiness. "The message Gen. Welsh and I keep taking to Congress [is] 'please don't carve money out of our readiness accounts," James said. "'Please, Congress, lift sequestration in FY '16, because if these difficult choices in FY '15 were troublesome, hold onto your hats, it's gonna get worse."
Indeed, although the Call is addressed to "airmen and airpower advocates," Congress is equally the audience. "As I was going through my confirmation process on Capitol Hill and I would do my courtesy calls with senators, I frequently heard that they felt that the Air Force seemed to lack consistency," James said. "This kind of framework — if we follow through with it — should certainly help us attain better results in that consistency department."
So far, of course, Congress has thoroughly shot down the Air Force's central proposal: freeing up funds for near-term readiness and long-term modernization by retiring the A-10. "It's a great platform," said Gen. Welsh, a former A-10 pilot himself. "The question is what do you want to give up instead?" Welsh has asked the military's combatant commanders whether they'd rather spend marginal dollars on more close air support or something else, such as intelligence, surveillance, and reconnaissance (ISR), he said, and "I now have a list of fifteen things they'd prefer us to spend the money on."
The service's great near-term fear is that Congress will save the A-10 by cutting into readiness funds. The anxiety over readiness, in turn, connects directly to the Air Force's focus on a high-threat future.
True, the Air Force has plenty of experience: not just 13 years of war, like the rest of the services, but also 10 years of continuous no-fly-zone patrols and frequent punitive strikes before that. The problem is that bombing inept Iraqi anti-aircraft troops and low-tech insurgents is not the right kind of experience for the high-threat future Air Force leaders envision.
"We are not where we need to be or want to be in the Air Force where it comes to our full spectrum of readiness," James said. "There's flying and there's flying," the Secretary went on. "We put an emphasis on the full spectrum of readiness training. This is the high-end, difficult type of flying against simulated threats we could face in some of the most difficult parts of the world, and so it's particularly that type of flying we feel like we've got to have more of, we've got to focus on."
The emphasis on the high-end threat shapes long-term modernization as well. Of the Air Force's top three programs — the F-35 Joint Strike Fighter, the Long-Range Strike Bomber, and the KC-46 fuel tanker — two are stealthy strike aircraft intended to penetrate advanced air defenses. (The third, the tanker, is the long-range lifeblood for everything from strike to reconnaissance to transport). Even higher on the spectrum is the strategic nuclear deterrent, which has gained new attention after painful scandals within the force and rising tensions with nuclear-armed Russia and China.
"We can't do everything and therefore we have to have some clear priorities, and nuclear is number one," said Sec. James. "People need to understand that. that's precisely why we're shifting resources and we're shifting personnel" to shore up the deterrent force. The Long-Range Strike bomber will be capable of carrying nuclear bombs, and the ICBM force must be modernized, she and Welsh said, though "it's a question of when."
"Both the Secretary and the Deputy Secretary, they're extremely interested in this area," James said. "This is a national asset, so it's not just an Air Force issue," she said, in a clear parallel to the Navy's argument that it needs a larger budget share to build a new nuclear missile submarine. While budget plans are far from finalized, James said, "I would suspect you are going to see more money put into modernization."
Besides the nuclear force and the big three aircraft programs (fighter, bomber, and tanker), the final top priority is cyberspace. All the services are striving to carve out a niche in cyber, the one area of the budget that's still growing, but the Air Force sees brave new worlds as its core competency. The service wants to elevate cyber operations to co-equal status with air and space, ideally using all three at once to attack a single target — what the Call describes as "a multi-domain approach."
"What it really calls for is for us to get our act together on what we're going to do in the cyber domain in the future," Gen. Walsh said. "Make it mainstream to the five core missions of our Air Force" — including offensive strikes — "as opposed to kind of a niche capability with really talented people doing it behind the green door."