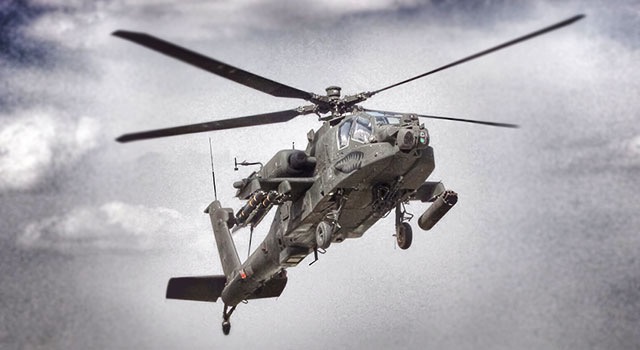 PENTAGON: $473 million. That's the amount the 2016 budget request would boost spending over 2015 to modernize the Army's aging helicopter fleet.That's a nine percent increase in a time of shrinking budgets, swelling aviation to more than the next two modernization accounts (ground vehicles and networks) combined. But the Army's aircraft request may be dead on arrival. That's not because of what it adds but because of what it takes away: AH-64 Apache helicopters from the Army National Guard.
Lots of Barack Obama's ideas are unpopular on the Hill, but Congress hated this idea so much it created a commission specifically designed to second-guess the plan. So the Army's proposal on helicopters faces triple jeopardy: the commission, the Congress, and the sequester.
The whole federal budget faces the prospect of sequester, which would whack every account. Each military department further has some cost-cutting measure that Congress has repeatedly rejected in years past. The Air Force wants to retire the A-10 Warthog. The Navy wants to mothball cruisers. The Army wants to make its helicopter fleet more modern at the price of making it smaller. The linchpin of that plan is retiring hundreds of aging scout helicopters, which requires replacing them with a mix of drones and Apache gunships, which in turn requires moving all the National Guard's Apaches into regular Army recon units.
ARI is so unpopular it's mentioned by name just once in the Army budget materials I've seen. The Defense Department-wide overview doesn't use the term at all, but it paraphrases it — in the same sentence as the A-10 retirement, changes to military compensation, and base closures, all of which are well-known dead men walking.
If Congress rejects the restructuring plan — either on its own or on the recommendation of the commission — then the regular Army scout units can't take the Guard Apaches. Plugging that gap will get expensive, which puts the $473 million investment in new helicopters at risk.
Here are the details of what the Army would buy with the money, if it gets it:
64 AH-64E "Guardian" Apaches, remanufactured from older models (that's almost twice as many as last year's buy of 35).
39 CH-47 Chinooks, 12 all-new aircraft and 27 remanufactured (but some rebuilt Chinooks will still be flying when they're 100 years old).
94 UH-60 Black Hawks, an aircraft the Guard actually gets more of under the Aviation Restructure Initiative.
28 UH-72 Lakotas, a light non-combat aircraft that will be exclusively used for training and by the Guard for disaster response and homeland defense.
15 MQ-1 Grey Eagles, the Army variant of the famous Predator.
Plus a host of upgrades from new infra-red countermeasures to facilities upgrades on the ground.
Updated 1:00 pm with detailed budget figures.