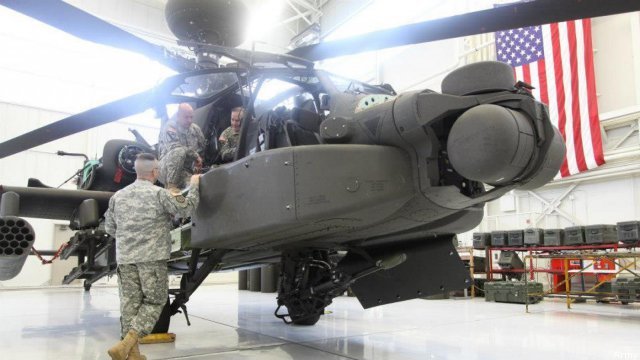 WASHINGTON: The Pentagon's hardest-nosed accountants have endorsed the Army's Aviation Restructure Initiative. ARI is a controversial cost-cutting plan which would retire the Vietnam-vintage OH-58 Kiowa scout helicopters and replace them with AH-64 Apache gunships taken from the National Guard. The Army said ARI, once fully implemented, would save $1.09 billion a year. In a document obtained by Breaking Defense, the independent Cost Assessment & Program Evaluation (CAPE) estimate comes in almost the same, at $906 million.
In a comparison mandated by Congress in last year's defense spending bill, CAPE found the Army's plan would save $176 million more a year than the National Guard Bureau's counter-proposal, which would have left some Apaches in the Guard. The Guard Bureau plan would also cost an additional $493 million up-front in one-time costs to buy more aircraft. A recent Government Accountability Office (GAO) study also found the Guard plan would cost more.
But the Guard has never denied that. "It was a bit more depending on how you costed it," said Gen. Frank Grass, director of the National Guard Bureau, when I posed the question just after the GAO report came out. "[But] if the costing is close," he told me, "the bigger question goes back to… do we need a combat capability in the reserve component to back up the active?"
A half-billion up front and $176 million a year is arguably a modest price to pay, in Pentagon terms, to retain Apaches in the Guard. It's "an estimated increase of 6-8 percent [in cost] for the 20 percent increase in attack helicopter capacity," said John Goheen, spokesman for the powerful National Guard Association of the US. "The key here is how often can you use the Guard."
Based on current official policies on how often Guard units can be called up, the CAPE study concludes that "ARI provides less total force structure but more usable capacity [and] a higher readiness level." In other words, the Guard plan kept more aircraft in service overall, but the Army ARI keeps more aircraft on active duty at any given time.
That's a valid analysis as long as you assume a Guard unit can only be activated one year in five, the current policy. If you mobilize the Guard more often — which would be a major strain on citizen-soldiers — you make Guard aircraft available more than 20 percent of the time. In the extreme case, 100 percent mobilization, a Guard unit and a regular Army one are indistinguishable.
100 percent hasn't happened since World War II. It might be politically impossible today for anything short of World War III. In a 2013 memo, however, Gen. Grass declared the Guard was "all in" and could deploy far more often than one year in five if the needs of the nation required.
At least in the near term, though, the nation may not be able to afford keeping the Guard Apache units around as a hedge against a future major war. Paying that additional half-billion up front and $176 million a year thereafter, while a small percentage of the Pentagon budget, is still plenty painful at a time when Budget Control Act caps — the so-called sequester — threaten to return.