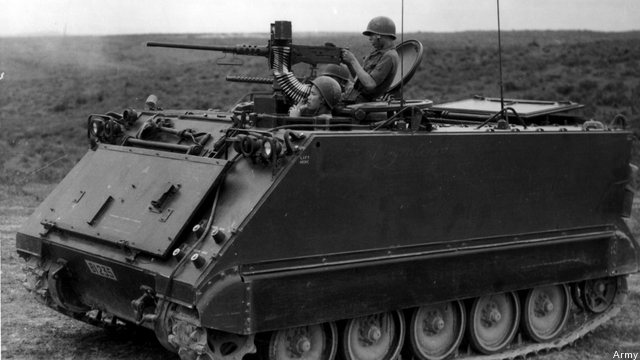 WASHINGTON: After 53 years in service, the Army's M113 armored transport might finally get replaced. Last night, the Michigan-based Tank-Automotive Command (TACOM) issued a draft Request For Proposals for a new Armored Multi-Purpose Vehicle. The final RFP is expected in June and the contract award in mid-2014. Variants of the General Dynamics Stryker and the BAE Bradley are the leading contenders. Our industry sources are still poring over thousands of pages of documentation, but here are the highlights.
The bottom line: almost $1.5 billion for over 300 vehicles — for a start. The RFP proposes a $1.46 billion contract in two phases: design, develop, and build 29 prototypes over four years — the $388 million engineering and manufacturing development (EMD) phase, 2014 through 2017; and then build up to 289 production models over three years — the $1.08 billion low-rate initial production (LRIP) phase, 2018-2020.
Beyond 2020, the Army plans to buy another 2,618 AMPVs over 10 years, for a total of 2,907, at an average manufacturing cost not to exceed $1.8 million per vehicle. (Weapons and electronics will add more, depending on the variant). That's about another $4.7 billion.
Of course, these are all pre-sequestration figures. President Obama has still not released his 2014 budget request. With Congress having just passed the 2013 spending bills yesterday — halfway through the fiscal year — and the automatic cuts of the sequester still set to happen, it's up in the air whether any big programs will survive intact, or at all.
Already the Army has had to slow down development of the AMPV's big brother, the Ground Combat Vehicle, and give up on competitive prototyping. So for AMPV, as with the revised GCV program, the Army will award just one development contract to one company. This saves money in the short run while raising the long-term risk that you won't like what you've bought but won't have an alternative.
How will the Army pick a winner? The exact requirements are largely classified, although the public documents make clear that "Underbody Force Protection/Survivability" — i.e. resistance against IEDs — is a non-negotiable top priority. Overall, the Army will grade the bidders on the technical design, their program management abilities, the cost, their past performance, and how much small business participation they have, in that order of importance.
Replacing the M113 is a big deal. First introduced in 1960 to carry foot troops into battle in a tracked and armored transport, it was replaced in combat units by the M2 Bradley in the 1980s but has since taken on a host of support roles. In Iraq, however, M113s proved so under-armored against roadside bombs that commanders restricted them to base. As the Army rebuilds its capability for mobile armored blitzkrieg after a decade of relatively static counterinsurgency work, it needs a support vehicle that can survive and keep up with the tanks.
Hence AMPV. The Army plans to buy 2,907 vehicles in five variants: 522 general purpose models to haul supplies and whatever else needs protected transport; 386 mortar carriers for quick-reaction fire support; 993 command vehicles packed with radios and computers; and two types of medical vehicle, 790 armored ambulances (or medical evacuation vehicles) for up to six patients and 216 mobile mini-clinics (medical treatment vehicles) to conduct life-saving surgeries as close to the front line as possible.
Will the Army get all of these, or will the venerable M113 keep limping on until its 70th birthday in 2030? That's ultimately up to the budgeteers, both in the Pentagon and in Congress.