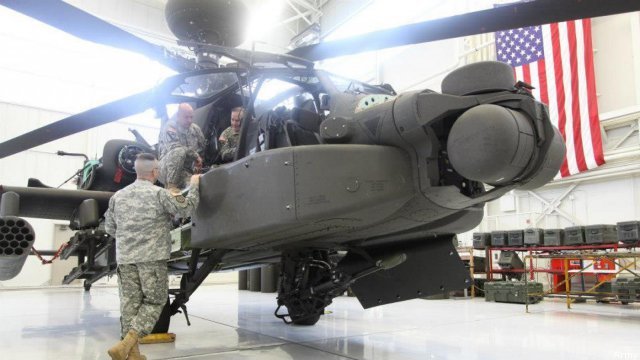 WASHINGTON: The Army's problem with its new Apache helicopters isn't as bad as we thought when we first wrote about it last week. It's worse.
We knew that Northstar Aerospace, the subcontractor making the transmissions for lead contractor Boeing, had fallen behind on building that crucial component. We knew at least seven of the latest model, the vaunted AH-64E Apache Guardian, had been built at some point without transmissions, rendering them unflyable until the part was finally installed.
What we didn't know was that the Army was taking new Apaches that did have transmissions, running them through the full battery of flight tests, formally accepting them from the contractor, and then taking the transmissions back out again. Why? So Boeing can re-install those transmissions on the next aircraft coming off the line, which allows that chopper to be tested, accepted, and stripped of its transmission in turn.
In brief, it looks like the service is playing a classic shell game that allows the aircraft to pass their flight tests even though there are not enough transmissions for all of them to actually fly at the same time. The Army insists Boeing is paying for all the extra work, as the company should. But installing, removing, reinstalling, re-removing, and re-reinstalling a component can't help but put unnecessary wear and tear on it. (There's a reason that technicians call the process, with grim humor, "cannibalization"). The ultimate result is that transmissions will wear out faster, which in turn means more expense down the road and a higher probability of the part failing in combat.
Lt. Gen. William Phillips, the military deputy to Army acquisition chief Heidi Shyu, revealed much of this in testimony this morning to the House Armed Services tactical air and land forces subcommittee. Phillips was responding to a pointed question from a clearly well-briefed Rep. Loretta Sanchez, the panel's top Democrat. We've also received explanatory documents from sources we can't name. And there are still plenty of questions we're waiting for the Army and Congress to answer on the record.
What do we know so far? To start with, here are the highlights of Lt. Gen. Phillips' exchange with Rep. Sanchez:
"It appears the Army has been paying for some Apache helicopters that are missing their transmissions and can't fly," Sanchez began. "I am told there are seven Apache helicopters that the Army has already paid over [inaudible] million for that are sitting under tarps at the factory waiting for transmission to be installed."
"The Army did not make that decision in isolation," Lt. Gen. Phillips replied. Army acquisition officials worked with their opposite numbers at the Office of the Secretary of Defense, he explained, and both agreed that "the right strategy for the Army was to accept the aircraft."
"Who?" Sanchez shot back. "I would like names," she said. "I would like a list" — though she added Phillips did not have to come up with one on the spot.
"Every aircraft that we accept from Boeing has transmissions," Phillips went on. "We allow Boeing in some cases to take that transmission out and put it back in the production line."
The reason for this "rotable pool" of parts, Phillips explained, is to keep aircraft moving through the flight test process. "We are accepting these aircraft and getting transmissions into them as quickly as possible in order to get the first unit equipped" for a scheduled deployment to Afghanistan, he said.
Other sources explained further. Using the current, curious procedure, each aircraft is ready to go within three days of the Army finally getting a transmission it can install permanently, because all the flight tests are already done. If the Army waited to get a permanent transmission and only then did the flight tests and other associated work, it would add at least an extra month.
The Army doesn't pay Boeing "in full" for aircraft that aren't 100 percent ready to go, Phillips and the Apache project manager, Col. Jeff Hager, have made clear. "We withhold about $900,000 from Boeing," Phillips said. (Presumably that figure is per aircraft, since each Apache costs about $20 million, or else it would be a trivial amount as either a penalty or an incentive to make things right). "It costs the Army nothing, it costs the government nothing."
The Army may have to keep doing this well into the fall, Phillips said, but "we will be well in December of '13."
Except that's not quite accurate, according to our information. The Army apparently started accepting Apaches for which it didn't have enough transmissions as early as 2011. The number of unflyable aircraft on the Army's hands peaked last November — a few months after Northstar went bankrupt — at either 10 or 11. Currently, the number of Apaches without transmissions has fallen to six or seven, and it will indeed go down to zero in December.
But after December, transmission deliveries will fall behind again, and the number of unflyable aircraft will go back up, from zero in December to a peak of three in 2014. Only in September of next year will the problem finally be resolved for good — assuming everything goes according to plan.
The total number of aircraft affected isn't huge. But it's still a significant percentage of the limited number of AH-64E Apache Guardians that the Army is able to buy on its current, constricted budget. The service had planned to buy 50 Apaches in the current fiscal year (two would replace war losses, for a next increase to the force of 48); but the automatic spending cuts known as sequestration reduced that to just 42. Only 33 of them are currently in Army inventory, so if seven are unflyable, that's just over 20 percent.
Those numbers don't look good in light of the Army being too poor to develop all-new helicopter designs. As Lt. Gen. Phillips and the Army deputy chief of staff for resources (G-8), Lt. Gen. James Barclay, testified today, the service may not be able to go ahead with a new reconnaissance helicopter, the Armed Aerial Scout, to replace the aging OH-58D Kiowa.
The service has already decided to keep its Apache gunships and Black Hawk transport choppers in service through the 2030s, when they will be replaced by an as-yet undefined "Future Vertical Lift" (FVL) aircraft.
"With aviation, we're looking 40 to 50 years out," said Lt. Gen. Barclay. At the moment, however, between sequester cuts and contractor troubles, the Army will find it difficult just getting the Apache program back on track in the next 16 months.