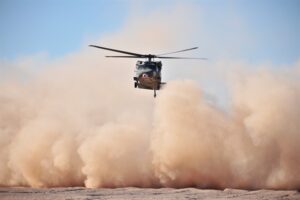 AUSA: The Army is groping for solutions to the worst threat helicopter pilots face in Afghanistan,  Iraq and other sandy places – brownout and other forms of Degraded Visual Environment (DVE), which from 2002 to 2015 caused nearly 400 aircraft losses in combat operations at a cost of 152 lives and roughly $1 billion.
"Of those DVE accidents, more than half were in a brownout situation," said Col. Mathew Hannah, who offered those statistics Monday at an Association of the United States Army media roundtable. "The remainder were in another degraded visibility such as low illumination, low contrast, or whiteout, which is basically snow."
Hannah, project manager for an Army initiative to solve the problem with a technology suite called BORES – Brownout Rotorcraft Enhancement System – said he would spend every hour — "no lunch" — of his two days at AUSA's annual meetings  in Washington conferring with contractors who have technologies that might help.
"There's a lot of momentum for Degraded Visual Environment (solutions) and a lot of vendors here at AUSA," Hannah said. "DVE is a high priority for the United States Army Aviation Center of Excellence and for Army Aviation."
That's what the Army's project managers say about their program to develop a better helicopter motor, too. But as with the Improved Turbine Engine Program — in development for more than half a decade and won't be in full production for another decade — the Army acquisition system is moving at a deliberate pace.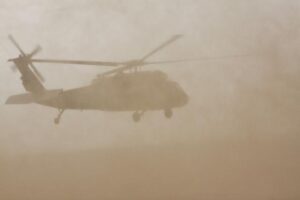 DVE has been recognized as a severe and costly problem since the wars in Afghanistan and Iraq began, and solutions of all types have been proposed and tested in the field. Radar, LIDAR, infrared – you name it. But Hanna's office won't even issue a Request for Proposals to industry for BORES until 2017.
How long will take to develop a system and how much will it cost? "We aren't at liberty to discuss funding profiles," Hannah said. "We are developing our acquisition strategy now."
The next step, Hannah said, will be a "users assessment" next spring at Yuma Proving Ground. Pilots of various experience levels will fly existing anti-DVE sensors in a UH-60 Black Hawk to gather data on which existing technologies show promise. The plan is to first develop a system that will let the pilot see forward through DVE — like driving a car with no side or rearview mirrors, Hannah offered — then expand the coverage to 360 degrees. "We want it to be lighter than air and we want it to see like Superman," he said. "We will shoot for those goals and see what happens."
Better hurry. With operations slowing and budgets tight, DVE is the kind of problem it's easy to lose sight of.