WASHINGTON: Army planners are thrashing out how many electronic warfare specialists the service needs, not just to rebuild radio-jamming and spoofing capability in combat units, but to create a training cadre that can sustain the EW corps for the long-term. Whether this plan for robust growth — certainly hundreds of soldiers, possibly over a thousand — will survive the coming budget crunch is another question, but there are positive signals from Pentagon leaders.
After four years focused on cyber warfare, "we have really focused on the build of the next phase of development, and that's in our electronic warfare force, bringing cyber, electronic warfare, and information operations capabilities across all echelons of the Army," said Brig. Gen. Jennifer Buckner.
Buckner, the director of cyber, EW, & IO on the Army's Pentagon staff, spoke at a media roundtable last week during the Army-NATO CyCon US conference. The growth she outlined includes
There's an important backstory here. This May, the four armed services completed a crash program to create a National Mission Force in Cyber Command — a joint strategic asset. Next, the Army wants to build its own cyber capability in tactical units like brigades.
But while high-bandwidth national networks rely on fiber-optic landlines and undersea cables, tactical networks have to work on the move, which means they're wireless. So tactical cyber warfare depends on electronic warfare, the use of radio waves to detect, disrupt, and deceive the enemy's transmissions while protecting your own.
Unfortunately, the Army disbanded its electronic warfare corps after the Cold War. While it recreated some EW capability for Afghanistan and Iraq, it was narrowly focused on jamming radio-controlled roadside bombs (RCIEDS), was chronically undermanned and overstressed and got cut back after the Iraq pullout. This time, the Army wants to avoid those mistakes by creating a robust and organic EW force: one that can counter high-tech adversaries like Russia and China, that is well-integrated into other Army functions, and that has deep enough institutional roots to endure.
Building To Last?
"One of our failures of the last 20 years (was) we created a force that was entirely operational with no generating force component," said Col. Andrew Hall, currently director of the Army Cyber Institute at West Point but formerly on the Army's personnel planning staff (G-1). "It basically collapsed … because there was no rotation."
In other words, not only did EW troops burn out from back-to-back-to-back deployments, like many undermanned specialties in the Army. With too few EW specialists in the "generating force" that trains and educates soldiers, the Army wasn't producing replacements fast enough.
To get it right this time, Hall's experts at West Point are working with the Cyber Center of Excellence at Fort Gordon, Ga. to develop a detailed model of what it will take to train, man, and sustain the EW corps for the long haul.
There are still plenty of details to work out but the Army has set sizes for cyber/EW planning staffs at brigade, division, corps, and theater levels. It's growing its central Cyber Warfare Support Battalion, which provides detachments of cyber/EW operators to combat units, to about 600 over five years. It wants a company of EW operators in every Expeditionary Military Intelligence Brigade and a platoon in every combat brigade. But the size of those EW companies and platoons is still undecided, and that's the largest piece of the future force.
(My guesstimate? Platoons of technical specialists tend to be smaller, e.g. the 22-soldier Shadow UAV platoon, and the Army has 31 active-duty brigade combat teams, so that's easily 600-700 soldiers in the brigade-level EW platoons alone. Two active-duty Expeditionary MI brigades adds at least six more platoons, about 120 soldiers. Add in planned growth in staffs — the biggest increase being five more planners in each combat brigade — and Hall's "generating force," and the total growth could easily break 1,000).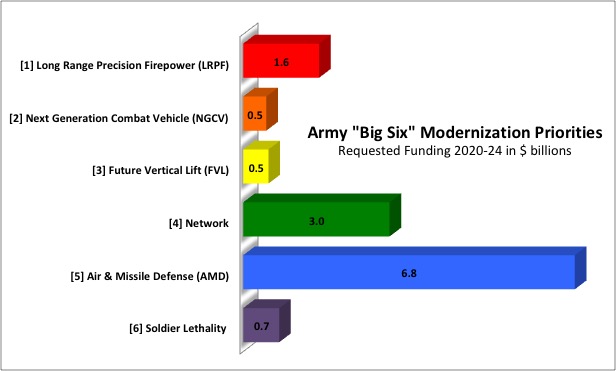 The exact numbers, Brig. Gen. Buckner said, will depend both on lessons-learned from the Multi-Domain Task Force experiments and how many soldiers the budget allows the Army to have. "We're still working on the numbers, which is dependent on the Army's endstrength and growth," she said.
What Buckner didn't say out loud is that all four services have long been bracing for possible budget cuts in 2020, when the Budget Control Act caps on spending (aka sequester) return in force. President Trump's unexpected order to cut 2020 defense spending by $33 billion below his earlier plans only compounds the pressure, forcing all four services to hastily submit alternative budgets after working all year with the higher number. And then the Democrats took back the House.
Deputy Defense Secretary Patrick Shanahan has pledged that protecting Army modernization is one of his priorities, along with cyber and space. Now, it's not clear whether Shanahan's definition of "cyber" includes electronic warfare, the way the Army's does, and EW isn't formally one of the Army's Big Six modernization priorities, although defensive EW is critical to No. 4, the network. But, without officially redefining the Big Six, Army Secretary Mark Esper has signaled that electronic warfare is a top priority.
"We're looking at putting EW capabilities back into multiple levels of the Army: brigade, division, and corps," Esper declared at the American Enterprise Institute on Nov. 8. "We want to restore EW capability, both offensive and defensive."