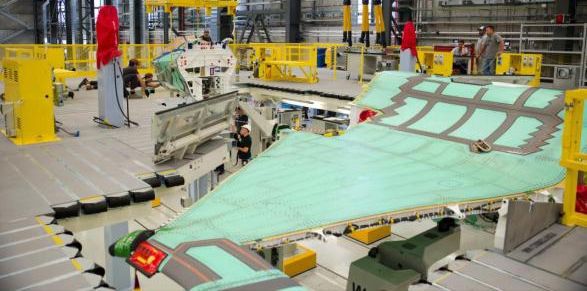 WASHINGTON: The Air Force's top priority programs — the F-35 Joint Strike Fighter, the Long Range Strike Bomber, and the KC-46 tanker — will cause Pentagon procurement spending to balloon in the early 2020s, says one of the capital's leading defense budget experts. Army ground combat programs are also increasing rapidly, but they are rising from such a low base that they don't affect the Defense Department total much. Projected growth in Navy shipbuilding — especially the Ohio Replacement Program submarine, whose expense has caused much anxiety — is largely offset by declines in Navy aircraft purchases.
"The Navy's situation is much better than I thought it would be," Todd Harrison told reporters after a Center for Strategic and International Studies forum where he discussed his latest study. "When you hear the Navy talk about their 'bow wave'" — budgeteer's slang for a big spike in required funding that happens conveniently just beyond the current five-year plan –"they're specifically talking about shipbuilding, and you have to look beyond that to realize there are these offsetting reductions coming from aviation programs."
Specifically, the P-8 Poseidon surveillance plane production is scheduled to end circa 2020, the Navy/Marine V-22 Osprey ca. 2024, and the Navy E-2D Hawkeye ca. 2025. Smaller programs such as H-1 and H-60 helicopters are also coming to an end. As a result, Navy Department aircraft procurement — which includes Marine Corps aircraft — will actually peak in 2016 at just under $16 billion and drop steadily thereafter, reaching $10 billion ca. 2025.
Meanwhile shipbuilding expenses will rise from about $17 billion today to about $21 billion from 2018 through 2021, with a spike to $23 billion in 2022. Driving this increase will be the replacement for the aging Ohio-class nuclear missile submarines, which Congress has suggested funding outside the Navy budget altogether, but Harrison notes the Navy has already partially offset the Ohio Replacement cost by cutting back on the Virginia-class attack submarine. Normally the Navy builds two Virginias a year, but in years it has to buy an ORP sub, it will buy only one Virginia.
"It's money they can trade within their own budget," Harrison said. "They don't have to go back and ask for more topline."
The Air Force, however, has no such trade space. Their top four programs — F-35, LRSB, KC-46, and the much smaller T-X trainer — dominate their spending on aircraft, and spending on aircraft dominates their total procurement budget. In fact, aircraft procurement nearly doubles from $12 billion in 2015 to $22 billion at its projected peak in 2023. There just isn't another big investment portfolio the Air Force can sacrifice to fund its top priorities, the way the Navy is dialing down aircraft even as it dials up shipbuilding.
"If they were going to try to make trades within the Air Force budget, there are not a lot of acquisition programs outside the big three [F-35, LRSB, and KC-46] that they could make trades with," Harrison said at the CSIS forum this morning. The Air Force could free up funds by cutting force structure — the number of units, planes, and personnel — even more than it's already done, he said, but given congressional opposition to moves like retiring the A-10 "Warthog," that seems unlikely.
By contrast, Army aviation programs — the service's biggest acquisition expense — will outright decline. The AH-64E Apache attack helicopter, CH-47 Chinook transport helicopter, UH-60 Black Hawk utility helicopter, and Grey Eagle drone (the Army variant of the Predator) will all come to an end by the mid-2020s, Harrison writes in his detailed study of the bow wave. Beyond them lie only the Improved Turbine Engine Program to upgrade existing helicopters and the huge but nebulous Future Vertical Lift initiative.
The Army's ground vehicle procurement budget has never recovered from the cancellation of the sprawling Future Combat System program in 2009 and of FCS's down-scoped successor, the Ground Combat Vehicle, in 2014. Now the Army does have an array of programs ramping up at once: the Joint Light Tactical Vehicle to (partially) replace the vulnerable Humvee, the Armored Multi-Purpose Vehicle to replace the Vietnam-vintage M113, and assorted upgrades to the M1 Abrams tank, M2 Bradley troop carrier, and M109 Paladin howitzer. But the scale, complexity, and cost of these ground weapons is modest compared to aircraft or warships.
"If all those programs proceed as planned, that would be a pretty steep bow wave, but again, look at the scale here, we're talking going from just over a billion dollars a year [in 2015] to just over $3.5 billion a year [at the peak in 2021]," said Harrison. "That is pocket change compared to the Air Force aircraft modernization bow wave."
So if you want to keep Pentagon spending relatively steady and avoid spikes in the early 2020s, it's Air Force programs you need to cut back or slow down. Harrison suggested a few alternatives, without necessarily recommending any of them.
The replacement for the Minuteman missile — the Ground Based Strategic Deterrent — in particular is "early to need" and could comfortably be delayed so its spending peaked after other programs instead of at the same time, Harrison said. A GBSD delay of five years would save $2 billion a year during the peak years of the bow wave, he said.
A similar five-year slip on the Long-Range Strike Bomber — which has both conventional and nuclear missions — would save $2.3 to $3.6 billion a year in the peak years, said Harrison, but the Air Force would be reluctant to delay a top priority for which they've just signed a contract. Likewise, delaying the Ohio Replacement Program by five years would save $2 to $4.5 billion a year during the peak years of the bow wave, but the Navy insists it's already extended the aging Ohio class and pushed back the replacement as long as it can without compromising the nuclear deterrent.
Then there's the largest Pentagon procurement ever, the F-35 Joint Strike Fighter. Cutting peak production by a third from 120 F-35s a year to 80 would save about $4 billion a year, said Harrison. But the F-35 program has serious momentum in the Office of the Secretary of Defense, in Congress, and with international partners. Still, Frank Kendall, head of Pentagon acquisition, recently made clear the F-35 budget is no longer sacrosanct so cuts may be a-comin'.