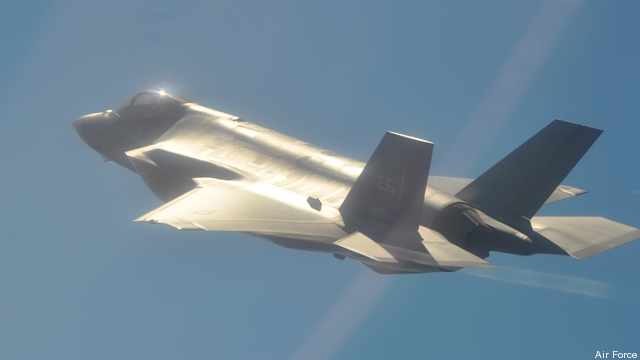 While the active-duty Air Force and the National Guard are at odds over budget cuts in Washington, the relationship seems smoother at Florida's Eglin Air Force Base, where an Air National Guard officer assigned the an active-duty 33rd Fighter Wing became the first Guard pilot to fly the F-35 Joint Strike Fighter, the controversial product of the Pentagon's biggest procurement program.
"It was a very easy aircraft to fly," said Air Guard Maj. Jay Spohn in a phone call with reporters Tuesday afternoon. "There were no surprises, there were no malfunctions."
Spohn's flight Monday was a simple familiarization exercise, hardly a rigorous test of the Lockheed Martin plane's performance. "The F-35 is at this point really in the crawl stage where guys are just learning how to fly the airplane," he said. Indeed, test pilots are still methodically working out the aircraft's flight envelope even as production planes are already being delivered – an overlap the F-35 program manager. Vice Adm. David Venlet, has called a "miscalculation." So for now, the sixteen F-35s at Eglin are restricted to five gees of acceleration and 450 knots of speed (about 518 miles per hour), or only 400 knots for the Marine Corps "jump jet" variant, the F-35B.
That said, Spohn had to work with the F-35's complex digital systems, and there his favorable review should count for something. "Some of the new 'glass' [i.e. instrumentation] in the F-35 is easier to use and presents you more situational awareness," he told reporters. "The biggest thing that jumps out at you is their remarkable lack of switches compared to the previous generation ofaircraft, and those two big touchscreens [instead]," he said. "Ergonomically it's quite a bit different."
Spohn also flew wearing the high-tech helmet developed by Vision Systems International (VSI), which is being reworked for jitter in the images it displays. "There has been talk of issues, but I didn't have any issues," he said – although he was not using feeds from all the aircraft's sophisticated sensors.
And Spohn applauded the digital training he'd been given before the actual flight. "The aircraft flies just like the simulator, which is a good thing," he said. Thanks to that training, he said, "I felt more comfortable on my very first flight in the F-35 than I did two years ago on my first flight in the F-15 or ten years ago in my first flight in the A-10."
The chief of Spohn's ground crew also said the digital systems make the plane easier to manage. "It's a lot simpler than the F-15C, which is what I came off," said Master Sergeant Brian Rowlands. For example, Rowland said, one set of test equipment for the F-15C involves four 50-pound boxes of gear; the equivalent for the F-35 is one 30-lb box, he said, "and the test can be done in half the time."
So while Spohn's flight is one small step in the F-35's long road to operational readiness, it's a positive step nevertheless. It's also a positive step for the integration of the active-duty Air Force and the Air National Guard, which was historically more harmonious than in the Army but has been strained lately by bitterly contested budget cuts.
"I would hazard a guess that a lot of people don't even know I'm in the Air National Guard," said Spohn, who drills with a Guard F-15C unit once a month but works full-time with the 33rd Wing, an active-duty unit. Spohn is one of four Guard and Reserve pilots "embedded" in the wing. It's "a no-kidding total force concept," he said, with active and reserve component personnel "working side by side."
Some more photos from Maj. Spohn's flight follow.