WASHINGTON: Just how bad is the Army at buying stuff? Earlier this week, the head of the Army's utility helicopter programs called out the Army's budget and acquisition system. Even though the Army is "100 percent behind this program," said Col. Tomas Todd,  "it's unbelievable what we go through," to design, build, and starting fielding new engines for the UH-60  Black Hawk and AH-64 Apache helicopters, a process that will take at least 11 more years.
What's do folks who know about this on Capitol Hill think?
"So says the officer whose modernization programs (UH-60M, AH-64E, CH-47F) are eating most of the Army's procurement accounts already. I'm not sympathetic," said a congressional aide well-versed in Army programs. "It is a money issue," the aide told me in an email. "Refitting new engines on the entire Army helo fleet – most of which is brand new – is not going to be cheap."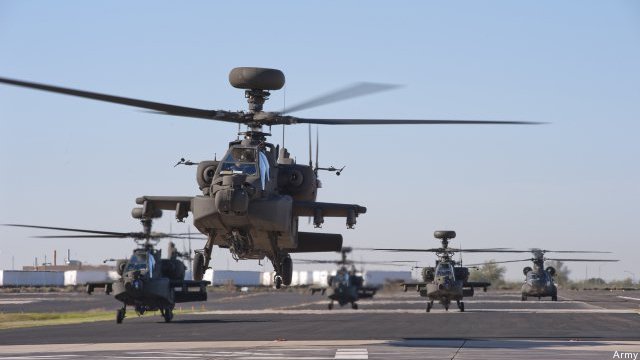 What about Col. Todd's other contention to the American Helicopter Society International conference, about the crippling bureaucratic process required to get approval: "There are 68 different offices – I don't know if you've got 68 every time you need a decision, but how would you feel if you had 68?"
Is this bureaucratic drag unique to the Army's helicopter world? Not really, said the Hill staffer. But he had kind words for Todd's personal abilities and sympathized with his plight in tackling all those offices: "I think the bureaucracy is somewhat of a given, although I'm sympathetic to the '68 offices' he has to deal with. The Army could, however, fix that on its own."
So, the congressional view is, add more money and the program would move at a faster clip.
While we know Army Secretary John McHugh has his heart in the right place about fixing Army acquisition and Lt. Gen. H.R. McMaster is trying to rebuild how the Army does its requirements, the fact remains that the service  has failed time and again to field new capabilities within the normal acquisition process. These helicopter engines are one of the service's top priorities and still they estimate it will take 11 years to get to production.
Might industry be part of the problem as well? GE Aviation, which produced the existing T700 engines the Black Hawk and Apache use, is competing for the replacement program against a 50-50 joint venture formed by Pratt & Whitney and Honeywell, the Advanced Turbine Engine Co. (ATEC). My colleague Rick Whittle, who covered the original story for us, quoted a retired senior Army aviator who said this:
"It's crazy," grumbled one former senior Army aviator attending the AHS briefing. "Both those companies could field that motor in half the time."
Can uncomfortable questions about Army acquisition from Sen. John McCain or his young star Tom Cotton be expected at the Senate Armed Service Committee's next Army hearing after the markup?