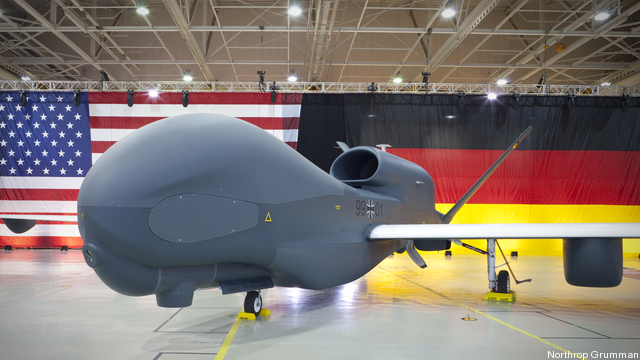 LAS VEGAS: As US defense spending ramps down, both the military and the aerospace industry want to sell more drones to friends and allies overseas. Right now, however, export controls and arms control treaties make that awfully hard.
"The foreign sales aspect of these RPAs [remotely piloted aircraft] is potentially huge," Maj. Gen. James Poss, who heads policy making on intelligence, surveillance, and reconnaissance for the Air Force staff, said Wednesday at the Association for Unmanned Vehicle Systems International (AUVSI) conference (click here for full coverage). A less restrictive export policy for unmanned aircraft is "in the national interest of the United States," Poss continued. "It's something we're aggressively working with both the OSD [Office of the Secretary of Defense] policy folks and the State Department."
A senior Air Force civil servant put the stakes bluntly: "The aviation enterprise is the crown jewel in the US economy by far. It has the greatest number of high value jobs, it has the greatest value that is exported," said Steven Pennington, director of ranges, bases and airspace. If the U.S. does not take the lead in the global drone market, he warned, Europe, Asia and others will "quickly fill that void."
The stakes are strategic as well as economic. The military sees foreign military sales of all kinds as a way to build relationships with friendly governments while equipping them with gear that make sit easier to operate alongside US forces. Unmanned air vehicles are a particularly important area to be interoperable, Poss said.
But it's not easy, Poss went on. Besides America's own notoriously complex export control regulations, he said, "there are international lawyers out there that think the various treaties dealing with cruise missiles apply," such as the Missile Technology Control Regime (MCTR). When it comes to long-endurance drones like the Global Hawk, for example, "if you take a very extreme view, these could be ultra, ultra-long range cruise missiles."
Global Hawk manufacturer Northrop Grumman has ambitious plans to sell their long-range drones abroad, but so far the only sales have been to long-standing European allies: the German Euro Hawk, a five-drone deal, and the NATO Alliance Ground Surveillance (AGS) variant, also with five aircraft on contract.
A Korean deal for four aircraft has been complicated by price disputes, export controls, and a 2001 US-Korean treaty that limits the payloads of South Korean drones and missiles. Talks with Japan are "ongoing but pretty sensitive," Northrop executive Walt Kreitler told reporters on Tuesday at AUVSI. Talks with India are also "ongoing" but can involve only information cleared for public release due to limits on arms transfer to India.
The potential market Northrop sees is huge. Just for the naval reconnaissance version of Global Hawk, known as Triton or BAMS (Broad Area Maritime Surveillance), Kreitler argues that there are 1,400 large maritime patrol aircraft in service around the world, mostly aging US-built P-3 Orions, and BAMS could replace — not necessarily one for one — over 800 of them. (The other 600 are doing anti-submarine warfare missions, which BAMS doesn't do; in US service, it would be partnered with the manned P-8 Poseidon).
But even sales to longtime allies like Australia and Canada aren't slam dunks. With Canada, for example, the issues are less legal than technical. The geostationary communications satellites on which most drones rely once out of sight of their operators work well at lower latitudes, but "65 degrees is about as far north as you can go," Royal Canadian Air Force Maj. Mark Wuennenberg told the audience at AUVSI — and Canada wants drones to keep an eye on the Arctic. Global Hawk has flown north of 85 degrees using an Iridium datalink, but while adequate to control the aircraft, there's not enough bandwidth to transmit back all the data the drone gathers, Wuennenberg said.
Those are technical problems the Canadians mean to solve, not just for unmanned aircraft but for a wide range of communications needs, but they show just how complicated international sales can become even when export controls don't get in the way. Still, the certainty of budget cuts and the possibility of sequestration makes "expanding outside US boundaries even more important" for the viability of the American industrial base, said Boeing executive Debbie Rub. "We need to be a little more aggressive."