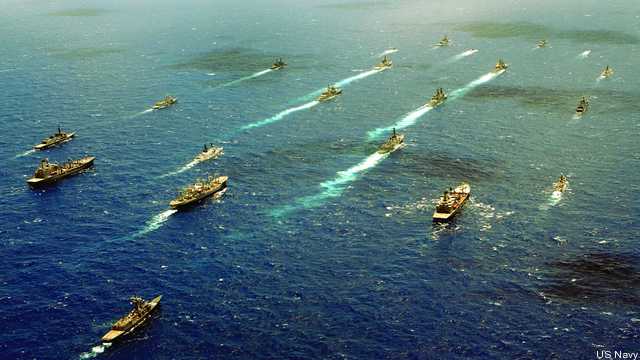 PENTAGON: With a new military strategy emphasizing Asia and alliance-building, the U.S. Pacific Fleet today kicked off its largest international exercise in years, known as "Rim of the Pacific" (RIMPAC).
Some 42 ships are representing 22 countries, including India, which the US has been wooing as a counterweight to China, and Russia, once the presumed enemy in the annual "Rim of the Pacific" (RIMPAC) exercise. The Chief of Naval Operations told reporters today that, heck yeah, the Chinese would be welcome too: "The more the better," he said.
Although US-China military interaction has been limited for years, and there have been several notable points of friction between U.S and allied forces in the South China Sea, CNO Adm. Jonathan Greenert emphasized that "we are embarked on a larger engagement" with the People's Liberation Army, with senior Chinese officials scheduled to visit the US next month and US Pacific Fleet commander Adm. Samuel Locklear currently visiting China.
As for RIMPAC, "this year is different because it's bigger," said Greenert. "It's kind of extraordinary." Just from Southeast Asia alone, he noted, "we have Malaysia, Singapore, and Indonesia all coming together" — despite their past conflicts (which Greenert diplomatically did not mention). And in keeping with the Administration's emphasis on letting other nations take the lead, as in the Libya crisis last year, non-US officers will take command of multinational task forces in the RIMPAC exercise "for the first time," Greenert said.
This year's RIMPAC will also include more amphibious forces, long unavailable for exercises because of the Marine Corps' massive commitments to land wars in Afghanistan and Iraq. And, Greenert boasted, an entire carrier strike group will be operating off biofuels. Many in Congress have been bitterly skeptical of Navy Secretary Ray Mabus's emphasis on a greener fleet — after all, biofuels currently cost more per gallon than old-fashioned gas — but Greenert insisted that the long-term "return on investment" from such eco-experiments is worth it.
All this Pacific activity is taking place even as tensions with Iran force the Navy to keep two carrier battle groups in the Gulf, twice the Mideast commitment envisioned in Pentagon plans. "That has led to longer deployments," Greenert acknowledged, putting more strain on ships and crews.
Under the CNO's own long-term plans, the average number of ships deployed to Central Command, which covers the Middle East, will in fact increase almost as sharply as the number in the Pacific. CENTCOM's average will go from 30 today to 34 by 2020, PACOM from 50 to 58 (assuming all the planned ships get built). But Greenert emphasized that those raw numbers conceal a shift in capability: The increase in the Middle East will come mostly from smaller, specialist vessels — like the Littoral Combat Ship, the Mobile Landing Platform, and Afloat Forward Staging Base — which are suited to lower-intensity missions like minesweeping, counter-piracy, and combatting Iranian small boats. That will in turn free up larger, multi-mission ships suited for high-intensity combat, like Aegis destroyers, for missions in the Pacific.
Edited at 5:45 pm to correct current fleet strength in Central Command.