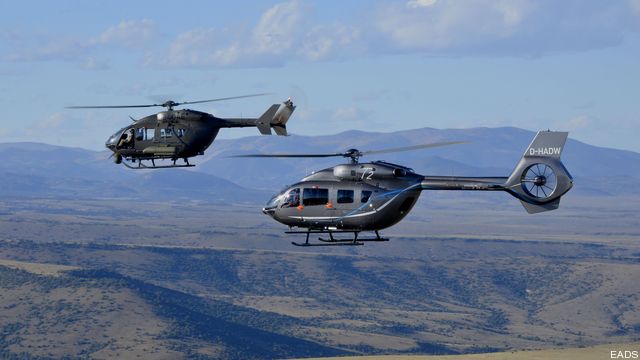 CORRECTED Oct. 19, 2012, 9:30 a.m. to clarify imprecise information provided during the EADS press briefing.
WASHINGTON: The U.S. arm of European aerospace and defense giant EADS urged the Army on Thursday to buy new armed scout helicopters instead of upgrading its aging OH-58D Kiowa Warriors — and challenged competitors to top the performance two potential EADS entries recorded in recent flight demonstrations.
"It's time for a competition," declared David Haines, EADS North America's vice president for rotorcraft programs, speaking at a press breakfast scheduled scant days prior to the largest yearly gathering of Army leaders and their industrial suppliers, the Association of the United States Army's annual meeting in Washington. "Keeping the Kiowa Warrior, quite frankly, for another 20 years isn't a satisfactory solution."
The Army has been struggling for years to come up with a replacement for the Kiowa, built by Bell Helicopter Textron Inc. of Fort Worth and upgraded several times over its roughly four decades in service. Early this year, the Army invited contractors to fly demonstrations of helicopters that, with modifications, might make suitable replacements, and five contractors responded. Those demonstrations are to end in November, and the Defense Acquisition Board, a top-level Pentagon committee, is to decide in December whether the results warrant funding a competition for a new Armed Aerial Scout (AAS) helicopter or whether the OH-58D should be upgraded again.
Company and Army pilots flew demonstrations from Sept. 24 to Oct. 3 at Alamosa, Colo., of two potential derivatives of the company's helicopters. One is the "Armed Aerial Scout 72X," a derivative of the UH-72A Lakota light utility helicopter the company has built for the Army in Columbus, Miss. The second — the"Armed Aerial Scout 72X+" – is based on EADS subsidiary Eurocopter's civilian EC-145.
Both performed well beyond the requirements, Haines said, flying from a civilian airfield located 7,500 feet above sea level and near a location the Army uses for high altitude flight training. Among other things, the aircraft demonstrated an ability to hover out of ground effect – a key measure of helicopter capability – at 14,000 feet "density altitude," meaning the equivalent altitude when barometric pressure and temperature are taken into account. The 72X carried Armed Aerial Scout mission equipment aboard, including a seven-rocket pod on the starboard mount and a .50-caliber machine gun pod on the port side. The 72X+ carried ballast to bring its weight up to the level that weapons and other mission equipment would add to an armed scout helicopter. Ballast was also added to the 72X as necessary to meet test points, EADS spokesman Jamie Darcy noted.
"This answers the mail in terms of what the Army's looking for," said Sean O'Keefe, EADS North America chairman and chief executive officer. "And we do so at a cost that is well within the range of what the Army will spend" to keep its OH-58D fleet flying.
O'Keefe said the Army stipulated that a new helicopter would have to cost no more than $13 million to $15 million per aircraft. He estimated the service might buy somewhere between 486 and 528 to replace its OH-58Ds if such a program were to go forward, making such a project potentially worth $7 billion or more. Though he declined for competitive reasons to reveal how much money EADS has spent on the project since the company began developing its entries in 2009, O'Keefe said the amount was in the "tens of millions" of dollars, and he emphasized that no government funding had been used on the 72X or 72X+ derivatives.
Given pressures to hold down spending, and with a major project already underway to come up with more advanced rotorcraft of all sizes, some Army leaders have seemed reluctant in the past to embark on a new helicopter acquisition. But the need for a new armed scout helicopter after more than a decade of war may be changing that attitude. At an American Helicopter Society dinner Thursday evening, Lt. Gen. William Phillips, principal military deputy to the assistant secretary of the Army for acquisition, outlined the future of Army aviation and began by talking about a new Armed Aerial Scout. "It's time for the Army to look forward and do something dramatic in aviation," Phillips said. EADS clearly agrees.